Summer vacation has begun for me and most of my fellow college students. This means more time to lolligag, less things to do (everything around here closes at 11), summer jobs, and summer reading. Of course, I don't actually have any assignments from the school, but my grandfather insisted I give some books of his choice a try.
He started me off with
The Day of the Locust
by Nathaneal West.
It's a Hollywood tale, and we know how much I love those! But it's also about inhumanity and anger, with Los Angeles becoming a place where people come to die. The characters scoot around in claustrophobic boredom, drinking and holding cock-fights. But nothing will deter the time of violence, the hour of brutality, the day...of the locust!
Duhn-duhn-DUUUUHHHHHNNNNN!
MRS. SCHWARTZEN
Who is She: A guest at one of the Hollywood parties who adores talking of smutty things. When intruding on a conversation some of the men are having, she is shocked and disappointed to find that they are talking shop, not sex. An outrageous, outlandish female.

My Choice: And who better to play an outrageous, outlandish female than....



Molly Shannon (Wet Hot American Summer, Osmosis Jones)


CALVIN
Who is He: One of the cowboys, he sits in front of the saddle store and pokes fun at Earle. And...that's about it.

My Choice: We haven't seen him play too many bright boys lately, but apparently he can do it.



Garrett Dillahunt (The Assassination of Jesse James by the Coward Robert Ford, No Country for Old Men)


MARY DOVE
Who is She: A high-priced call girl who also happens to be a friend of Faye's.

My Choice: Why has no one played up the unconventional hotness yet?



Lizzy Caplan (Cloverfield, Mean Girls)


MS. JOSEPH
Who is She: The landlady at the Bernadine Hotel, she arranges for funerals and guilt-trips.

My Choice: She excels in these parts.



Margo Martindale (The Riches, that yogurt commercial where she plays a laundress)


MRS. AUDREY JENNING
Who is She: A former screen siren who lost her job with the talkies, she is now the Madam for the most expensive call girls in California. Catering only to the rich and privileged, she makes the deals in her mansion, though it is never used as a rendezvous spot. She also screens pornographic films there.

My Choice: A beauty with a voice the talkies wouldn't allow?



Fran Drescher (Life with Fran, The Nanny)


ABE KOSICH
Who is He: A hot-tempered dwarf, he acts as a bookie for anything and everything--horses, chickens, you name it. He drinks too much, though, and is subject to mood swings. Occasionally, he uses his head as a battering ram. It's funny.

My Choice: Oh, the dwarf pool is so small in Hollywood. Get it?



Jordan Prentice (In Bruges, Howard the Duck)


CLAUDE ESTEE
Who is He: A successful screenwriter, he has an odd sense of humor--such as the surprise at the bottom of his pool. He befriends Tod and takes part in the cock-fight, but knows enough to get out when he can.

My Choice:



Toby Jones (Ever After, The Mist)


MIGUEL
Who is He: A Mexican friend of Earle's. He doesn't speak much, but he does have tequila. He dances and sings, seduces women, trains roosters, holds cock-fights. He's a fun-and-games man.

My Choice: I'm thinking someone bad-ass.



Freddy Rodriguez (Bobby, Grindhouse)


EARLE
Who is He: A self-proclaimed cowboy, he limits his western ways to standing by mysteriously and sitting in front of the saddle store. Goes out to dinner broke, so someone else has to pick up the tab. A wee bit of a temper: thrice does he strike out at people, twice over a girl.

My Choice: God, I would love to see him parody the brooding.



Christian Bale (I...seriously? You know him)


HOMER SIMPSON
Who is He: Yes, that's his name. A quiet man who tries to remain celibate, he winds up living with Faye after falling for her. But no sex. You always got to be careful of those quiet types, and he's no exception.

My Choice: Good-looking enough to please Faye, yet awkward enough to be Homer.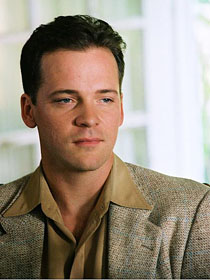 Peter Sarsgaard (Jarhead, Rendition)


HARRY GREENER
Who is He: Father to Faye. A former vaudevillian, he can never break the habit of performing. Meets Homer while selling polish. A sickly man, he spends much of the book laid up in bed, reminiscing on old times.

My Choice: Established actor who can clown around.



Academy Award Winner Dustin Hoffman (Kramer vs. Kramer, Rain Man)


FAYE GREENER
Who is She: A beautiful blonde, she wants to break into show business. Trouble is, she's no good. Like her father, she is always putting on a performance, so it's hard to tell when she's being honest or not. Uses her looks to get what she wants.

My Choice: The only one I can think of for this role: beautiful, yet gritty. And a finer actress than given credit for.



Brittany Murphy (Little Black Book, Clueless)


TOD HACKETT
Who is He: An artist being trained in sketching costume and production designs. He falls for Faye, but she makes it clear that there will never be anything between them. Imagines Los Angeles as a wasteland whose inhabitants will one day burn it to the ground.

My Choice: Looks like the book's description, and golly could he play it.



Tobey Maguire (The Cider House Rules, Seabiscuit)