Wow, okay, so get ready for this.
Dominick Dunne is a popular author of not-quite-fiction. Liberties are taken, names are changed, new characters and situations are introduced. It's all for naught--he means for people to know who the hell he's talking about. It's thinly veiled non-fiction, and since he always focuses on murders among the rich and privileged, it makes it that much juicier. Seriously, the man wrote eight books, only two of which are labeled "non-fiction", but everyone knows the real stories...
Take, for instance, the subject for this week's CCT.
A Season in Purgatory
focuses on the Bradley clan, a wealthy Irish-Catholic family looked down on by the WASP elite. The sons are all primed for success and politics, with the dashing Constant Bradley holding their greatest hopes. Constant befriends young Harrison Burns, an aspiring author orphaned by his parents' murder. He becomes a pseudo-son in the Bradley household, a position that proves to be none-too desirable when a local girl is murdered with a bat, her blood on Constant's clothes. Harrison helps the family cover up the murder, with the women blissfully unaware (or willingly ignorant).
Fifteen years later (the bulk of the tale), Harrison is a popular author of non-fiction books concerning crime and justice. While researching a new novel of his, he meets up with Constant's sister, Kitt. The two begin an affair, and the combination of this and the subject of his latest book lead him to turning in Constant to the authorities. A magnificent trial starts, and who knows what happens afterward?
There are similarities, of course, to the Michael Skakel case. Skakel is a distant relative of the Kennedys, the well-known Irish-Catholic family with political pursuits. In 1975, Martha Moxley was murdered with a golf club that belonged to the Skakel family. The case remained unsolved until a little over fifteen years later, when new details emerged with the rape trial of cousin William Kennedy Smith. Skakel was indicted in 2000, tried in 2002, and found guilty. He and his family still protest his innocence, and the appeals continue.
A Season in Purgatory
is different, though. There is no doubt as to who the murderer is, no question as to the truth. The trial itself is a media circus, with a whizz-bang ending that will leave you open-mouthed in shock. Highly recommended reading. And if you do, see if you agree with this Casting Coup of thirty (!).

FRUITY SUAREZ
Who is He: A former schoolmate of Constant and Harrison's, Fruity was kicked out due to inappropriate conduct with one of the coaches. He knows a thing or two about the wrath of Constant Bradley--he even has a cousin who Constant beat up when he couldn't get it up for her. Fruity suspects Harrison's secret, and encourages him to act.

My Choice:


Jacob Vargas (Bobby)


GUS BAILEY
Who is He: A local reporter who first breaks the Utley case. He never leaves it alone, and eventually it is he who breaks the re-opening of the case. He first casts suspicions in Constant's direction.

My Choice:


Ray McKinnon (O Brother, Where Art Thou?)


CAPTAIN RIORDAN
Who is He: The investigating officer. He knows Harrison has a secret, but what? He also happens to be friends with Cardinal Sullivan, a friend of the Bradleys.

My Choice:


Richard Jenkins (The Visitor, Rumor Has It...)


DR. SHUGRUE
Who is He: The Headmaster of the school Harrison and Constant attend. He freely accepts gifts from the Bradley family in exchange for a pass to the troublesome Constant. He believes Harrison's soul is in danger.

My Choice:


Bud Cort (The Life Aquatic with Steve Zissou, Harold & Maude)


LUANNE UTLEY
Who is She: The mother of the dead girl. She, too, suspects Constant, but has no proof. The trial gives her some closure, thankfully.

My Choice: Hollmann Award Nominee for Best Supporting Actress (Infamous)


Hope Davis (American Splendor, Charlie Bartlett)


AUNT GERT
Who is She: Harrison's aunt, a poorer relation devoted to mission work. She distrusts the Bradleys, and later ends up in a nursing home.

My Choice:


Lois Smith (Hollywoodland, Minority Report)


CLAIRE LAFFERTY
Who is She: Harrison's wife, an older woman from whom he is separated when he meets Kitt again.

My Choice: Academy Award Nominee for Best Actress (Little Women) and Supporting Actress (The Age of Innocence)


Winona Ryder (The Ten, Heathers)


RUPERT DI PITHON
Who is He: He used to be the center of everyone's social circle. Having alienated his friends by divulging too many secrets, however, he is desperate to please when Harrison shows up to research his new book.

My Choice: Academy Award Nominee for Best Supporting Actor (Chariots of Fire)


Ian Holm (From Hell, Alien)


ELOISE BRAZEN
Who is She: Rupert's realtor, she also happens to be the woman Gerald Bradley was sleeping with the night Winifred Utley was murdered. She would like to sleep with Gerald's son Constant, too, whether he bought her dinner or not.

My Choice:


Demi Moore (Ghost, Charlie's Angels: Full Throttle)


MAXINE LONERGAN
Who is She: A former high-priced Lady of the Night who happens to know both Gerald Bradley and his inner circle. Harrison meets her while researching his latest book, as she's the mother of the victim.

My Choice: Academy Award Nominee for Best Song (Nine to Five, Transamerica)


Dolly Parton (Straight Talk, The Best Little Whorehouse in Texas)


ESME BLAND
Who is She: The subject of Harrison's latest work. Esme murdered her father's gigolo when he blackmailed her. Admitted to an upscale asylum, she convinces Harrison to reveal his secret. She lives next to the Bradley daughter no one speaks of, the one who thinks she's a nun. Creepy.

My Choice: Academy Award Winner for Best Actress (Coal Miner's Daughter)


Sissy Spacek (JFK, Blast from the Past)


CARDINAL SULLIVAN
Who is He: The Bradleys are devoted Catholics, especially the mother. Sullivan is her personal priest.

My Choice: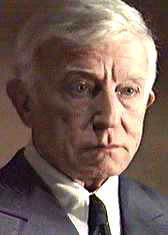 Henry Gibson (A Perfect Couple, Luck of the Irish)


SIMS LORD
Who is He: Gerald Bradley's lawyer. It's not enough that he handles all of Gerald's business affairs. He also conspires with the men to cover up the murder of Winifred Utley.

My Choice:


Paul Kaye (Marple: The Sittaford Mystery)


VALERIE SABBATH
Who is She: The high-priced defense attorney that handles Constant's trial. A ball-busting, cussing, aggressive lady, she's never lost a case. Obviously, it does not matter to her whether her client's guilty or not, just whether or not she wins the case.

My Choice:


Rosie O'Donnell (The Flintstones, A League of Their Own)


SALLY STEERS
Who is She: Decorator to the rich and famous! Bradley keeps her on for a number of years, even elevating her to level of mistress. When she is tossed aside, she warns Harrison against the family--a family he heeds too late.

My Choice: Academy Award Nominee for Best Actress (Aliens) and Supporting Actress (Working Girl)


Sigourney Weaver (Infamous, Vantage Point)


JOHNNY FUSELLI
Who is He: Gerald Bradley's personal cleaner. Not like dishes or clothes, but crimes and murders. Connected to the Mob (and to Maxine Lonergan), Johnny destroys the evidence connecting Constant to Winifred Utley's murder. But he's no murderer himself, and fails when ordered to kill Harrison.

Who is He: Academy Award Nominee for Best Supporting Actor (The Godfather: Part III)


Johnny Fuselli (Dead Again, Smokin' Aces)


BRIDEY
Who is She: Loyal cook to the Bradley family, Bridey is a devout Irish Catholic with a fierce loyalty to her masters. She sees Constant and Harrison in the kitchen the night of the murder, but will she tell the truth when called on to testify?

My Choice: Academy Award Winner for Best Supporting Actress (My Left Foot)


Brenda Fricker (Angels in the Outfield)


SIS MALLOY
Who is She: The plain, poor cousin of the Bradley family. Sis is looked down upon byt he rest of the family, eventually ordered to serve as nurse when one of the clan falls ill.

My Choice:


Elisabeth Moss (The West Wing, Mad Men)


FATTY MALLOY
Who is He: Sis's brother, more in touch with his common roots than Sis. Verbally abused by his cousins as children, Fatty remains his own man, opting to work at a grocery store instead of accepting favors from the Bradleys. He secretly befriends Harrison during the trial.

My Choice:


Patton Oswalt (Ratatouille, Magnolia)


MARY PAT BRADLEY
Who is She: One of the Bradley sisters, she churns out kids like it's going out of style. She shares her mother's religious devotion, as well as the tendency to condemn those who don't adhere to her rules.

My Choice:


Christina Hendricks (Mad Men)


SENATOR SANDRO BRADLEY
Who is He: The first son to wield power in politics.

My Choice:


Neil Patrick Harris (Harold & Kumar Go to White Castle, How I Met Your Mother, Old Spice ads)


CHARLOTTE BRADLEY
Who is She: Constant's wife. She knows all about Constant's affairs and woman-beating, and even considers divorce. Then the trial happens, and she stays on as the loyal wife, for a price.

My Choice:


Elizabeth Banks (Definitely, Maybe, W.)


MAUREEN BRADLEY
Who is She: The oldest Bradley daughter, she takes control during the trial, planning seating, statements, etc. She butts heads with Valerie often.

My Choice:


Drew Barrymore (Cat's Eye, Home Fries)


DR. DESMOND BRADLEY
Who is She: One-time rebel, he married one of the maids before his parents had it annulled. Now a successful surgeon, Desmond drugs Harrison after Winifred's body is discovered.

My Choice:


Simon Baker (Sex and Death 101, The Devil Wears Prada)


JERRY BRADLEY
Who is He: The oldest Bradley boy, he was the first to be groomed for a future in politics. The dream ends after a car accident involving him, a girl, a tree, and road head. Unable to walk without crutches, Jerry compensates through anger and bullying.

My Choice:


Aaron Eckhart (Thank You for Smoking, The Dark Knight)


GRACE BRADLEY
Who is She: The matriarch of the Bradley family, Grace is a devout Catholic. The night Winifred is murdered, she notices Constant's conspicuous absence from the ground. Will this pious friend of the Pope tell the truth in court?

My Choice:


Fiona Shaw (Jane Eyre, Super Mario Bros.)


KITT BRADLEY
Who is She: The youngest of the Bradley girls. Attracted to Harrison from the start, she begins an affair with him twenty years later. She, too, refuses to admit Constant's complicity, but she alone of the family listens to Harrison. She alone is well aware of the corruption within her family.

My Choice:


Isla Fisher (Definitely, Maybe, The Lookout)


GERALD BRADLEY
Who is He: The powerful, corrupt patriarch of the Bradley clan. Dominating over all with an iron fist, Gerald bribes Harrison to write essays for Constant and keep quiet about the murder. Twenty years of lies, adultery, bribes, and cover-ups eventually catches up with him.

My Choice:


Tom Skerritt (MASH, Steel Magnolias)


CONSTANT BRADLEY
Who is He: The youngest, handsomest of the Bradley boys. Athletic, handsome, charming, a good dancer. He's also hot-tempered, abusive, cocky, and amoral. Unable to get it up for a girl, this leads to him beating his conquests up. He is able to get it up for Harrison, though....

My Choice: Academy Award Nominee for Best Actor (Brokeback Mountain)


Heath Ledger (10 Things I Hate About You, The Dark Knight). Seriously. He had the looks, the body, the charm, everything. He would have been perfect for this role. But, he's dead, so....

My Living Choice:


Jensen Ackles (Supernatural)


HARRISON BURNS
Who is He: The lead. A writer of true crime, Harrison carries the weight of what he knows throughout his life. Esme Bland makes him realize that it is time to stop writing about justice and start making it happen. Attracted to Constant as boys, married to Claire as adults, he has an affair with Kitt, dragging him back into the Bradley fold and necessitating his confession.

My Choice:


John Krasinski (Smiley Face, The Office)